After months of trolling the Internet, virtually wandering through villas, condos and casitas in search of a vacation rental, Hank and Ingiberg inspected photos of canopy beds and adobe fireplaces and settled on what would be their home during their trip to Arizona from Norway—a romantic, eco friendly casita. And I was to be their host.
"I want your vacation to be carefree" read the note I sent to them with their rental agreement and instructed them to look behind the flower box for the key.
Upon arrival they found the key easily. And as they opened the door to their new home-away-from-home, they breathed a sigh of relief seeing the casita was even better than it was described on the Internet.
It may be tough to believe that arrangements made thousands of miles away for a house in an unfamiliar country can actually work out so well. But it did, and that is one reason why renting online is a booming part of the travel business, six percent of all lodging and climbing.
Short-term vacation rental homes
offer an
alternative to big box hotels
, resorts, timeshares and condos. Often far cheaper than stays in a hotel, with bigger rooms, self-catering kitchens, and more privacy—people have their own unique reasons for renting from a private owner instead of a faceless corporation.
Those of us with allergies can finally travel without getting sick by staying in low toxin, healthy homes. Smokers can stay indoors and light up in another smoker's vacation home. People with pets can give up expensive pet sitters and guilt by taking Spot or Tweetie bird on the road with them to a
pet-friendly rental.
You may want to consider the
pros and cons
like giving up luxuries such as being served breakfast, getting travel advice from helpful staff, and encounters with other travelers—but for many people these can be an advantages. And if you shop smart, you can find an owner who will give sound advice or provide a gourmet breakfast.
While Ingiberg says their rental experience exceeded her expectations, things don't always work out so well. I booked a vacation rental once that showed pictures of the beach I assumed were taken from the house. I arrived to discover the pictures were of the beach, but the house was 12 blocks away in an industrial park.
Get a Guarantee.
Use a listing site like Home Away which provides a
trip guarantee
of $5000. If the rental listing is not legitimate and you registered your trip with them, they pay you. Other sites remove owners after just one serious complaint.

Read Guest Reviews.
If the reviews are written in a similar "voice" or could have been posted from one computer, take care. Most listing sites will not allow more than one or two postings from the same computer or from the owners, ensuring the legitimacy of the reviews. You can always ask the owner if you may email or call the review writer for verification. Shortcomings like being 30 minutes from a grocery or next to a highway will often be mentioned in the reviews.
Check Photos For Clues.
Owners should show photos of both the interior and exterior. If you only see one or the other, it can be a warning sign that they're avoiding showing you something--worn out furniture or a noisy location. Not showing any photos is worse. Avoid listings that don't have photographs, it's not worth your time to deal with someone who doesn't take their listing seriously or know enough about the process to get pictures posted.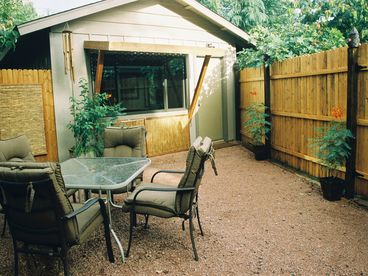 Ask Questions.
I'm always surprised that most of our guests book online without ever asking a single question other than how much it costs. It may be that my description is thorough and our booking process answers their questions. But as a recent guest pointed out, she didn't ask questions, booked a property she thought was described as the same as another one bedroom because it seemed to have better views only to find the place is basically a furnished garage. From the photos the patio table appears to be on a nice gravel terrace. Surprise! The "yard" is also the driveway.
A few sharp prospective guests ask me questions about what they know make them comfortable during a trip. And they ask in such a way that I can't slip around a shortcoming. For example, they don't ask, "Is the hot water plentiful?" If I wanted to give a legal answer, I could safely say
yes
to that question no matter what the supply might be. What's "plentiful" to me could be a 60 second rinse. A savvy prospective guest asks, "How many 5 minute showers would you say you could take before the hot water runs out?"
A guest who wants privacy asks,
"Is anyone else on the property?" And, "I understand the view is great OUT of the windows, but I'm wondering, how easy is it for people to see IN?" You'd be surprised how many rental properties don't have shades.
Swimmers
get specific about how they want use the pool, "I want to swim laps in the pool, is it long enough for lap swimming without encountering ropes or kids in the pool?"
People who want peace and quiet ask,
"How far is the property sited from the nearest highway?" Some use Google Earth and other mapping sites to help visualize the proximity to busy roads and other buildings and developments.

Cooks and those who don't want to spend time driving want to know,
"How far is the nearest grocery store?"
Parents and healthy home advocates ask,
"What repairs have you made recently?" They know new paint, glue and other materials can outgas harmful toxins with not only an unpleasant smell, but chemicals that may damage your lungs. Asking about repairs and improvement is also a good way to find out the condition of the property. Owners who haven't made any upgrades or changes in a few years probably have an overused or worn out property which is great for beach parties and college kids or a car load of pets, but may not be what you're expecting. Ask how long ago the photographs were taken and what's been changed since that time.
If a condo unit is in a complex, ask if you are guaranteed a particular unit. Find out which units have the best furnishings and how they compare with other units. Find out what housekeeping services are offered and the cost of more frequent services.
Last but not least,
consider how you're asked to pay for your vacation rental and get the details about deposits, damages and cancellation in writing, I post them on our website and we have an agreement letter. Home Away has
tips on how to protect yourself
when renting. The most common Internet scams involve cashiers checks. Don't use them. Personal checks have more laws to protect people on both sides of the transaction. Better yet, use a credit card. While owners have to charge you more to cover the fees, if there's a problem, you can dispute the charge with your credit card processor.